Iris Technology
IRIS Connect is a video-enabled professional learning platform. It gives teachers the opportunity to record classroom-based teaching and learning using the Discovery Kit, or capture online teaching using the IRIS Connect App and integrated screen-capture tools.
All videos are securely transferred to the teacher's personal, password protected account on the cloud-based platform. From there, teachers can reflect on teaching and learning, analyse practice, add time-stamped comments, edit their videos and – if they want to – share with colleagues or leaders for feedback.
IRIS Connect is a collaborative teacher development space enabling teachers to work together in groups, share their resources and participate in online courses.
It has been shown to help teachers develop new skills, refine their instruction, improve collaboration and deliver improved learning outcomes.
Why did we begin to use IRIS CONNECT in our school?
In a previous OFSTED inspection the school was graded as requires improvement. The report highlighted a need for the quality of teaching to be more consistent across school and for subject leader's roles to be further developed in order for them to contribute to improvements in teaching and learning.
Following the OFSTED inspection, the Senior Leadership team (SLT) looked for ways in which the school could address these issues. Due to budget restrains teachers found it hard to get cover so that they could go into other classes and observe best practice.
The school had previously attempted to adopt the 'lesson study' approach but found that teachers were unable to meet regularly enough to make it effective. It was then decided that the implementation of IRIS CONNECT could support teachers in developing their own practice and in leading a subject.
It provides the opportunity for teachers to film their lessons and share them with others. IRIS allows for more personalised, relevant and supportive professional learning opportunities which have shown to be effective at improving learning outcomes within school.
How is IRIS technology used at Diamond Wood Community Academy?
Our key aims and intentions are;
To use IRIS for peer-peer support.

To use IRIS as a tool to monitor and self-evaluate own practice (CPD).

To use IRIS as a tool to share best practice.

To use IRIS as a tool for SLT/ SMT monitoring in response to the Covid 19 risk assessment.
Training (including refresher training) has been provided for all staff from IRIS connect themselves. Follow up sessions are always available for new staff and any who need it. Our teachers have been using IRIS for a number of years now and are proactive in supporting others to use the it.
All classes have now been provided with an Ipad which allows them to use IRIS at any time. Teachers no longer need a timetable for usage of the software. This allows them to use it whenever they want to. However, there is still a timetable in place for two separate specific 'IRIS Ipads' which have Ipod speakers allowing for better sound quality.
Teachers are provided with a school monitoring timetable from the SLT. This shows them what the focus for any IRIS observations should be. Teachers then record and share these lessons or sections of them with the SLT. Lessons are also shared with the appropriate subject leads and year group leads.
Subject leaders regularly collect clips to share on their subject 'IRIS groups page' with the intention of sharing best practice and accumulating a supportive resource to all staff members. These groups also include information about the subject which is useful for others to access. For example;
Curriculum expectation documents and information

Useful website links

Current research documents

Samples of work

Photos of events happening in school
Year group leads will also provide teachers with their own monitoring timetable. Any IRIS observation requirements will be highlighted and discussed with the team. Year group leads will then use the shared clips for monitoring purposes where appropriate and provide both verbal and written feedback.
Teachers are always encouraged to also use IRIS as a tool to support their own CPD. These videos would not necessarily be shared as they are just a 'work in progress' for the member of staff.
What has the impact been so far?
SLT carefully monitor and evaluate the use of IRIS throughout the year. This is an ongoing process. This is mainly due to the fact that it needs staff participation in order to be successful. Therefore, the SLT regularly gather staff opinions and feelings towards using IRIS. This is done through arranging time to review practice each half term in staff meetings. Feedback has shown that IRIS is successfully having an impact on developing the confidence of staff to use the video technology to support their CPD. This in turn is having a strong impact on teaching and learning across school.
Due to the success of using IRIS in school, the percentage of outstanding teaching observed in school has risen from 7% to 22%. The percentage of good teaching observed in school has risen from 70% to 95%. The percentage of children working at or above age related expectations within maths, reading and writing has also improved in all year groups.
The effectiveness of IRIS technology at Diamond Wood Community Academy has also been recognised by others. Our Assistant Head Teacher Mrs Price won 'Inspirational teacher of the year' award at the Examiner School Awards. This was mainly for her implementation and leadership of using IRIS in school to support teaching and learning. This was written about in our local newspaper.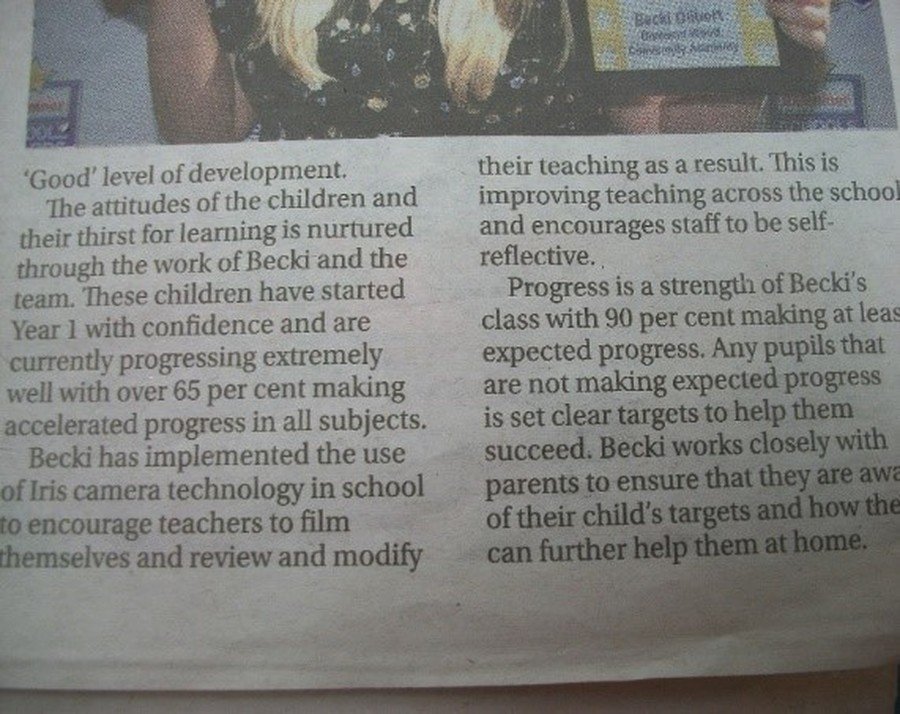 What Our Team Members Say About IRIS Technology
"Mrs ***** brings the camera to our class sometimes. It is just to watch her teaching our lessons. She wants to get even better and help us learn more. She sometimes plays it on the smartboard and we can watch. It is so funny! When it is on the screen goes black to help us ignore it. We forget it is there. Mrs ***** is a really good teacher. She helps us learn".
DWCA Year 2 pupil
"IRIS has made me aware of the surroundings in the classroom when teaching and provides a good opportunity to self-assess my practice".
DWCA Reception teacher
"IRIS gives us, as subject and school leaders, a better understanding of our individual aims for CPD and helps us establish how best to support them in achieving these. Given that IRIS Connect has enabled us to affect all of these positive changes in this one year alone, needless to say, we are incredibly optimistic and excited about the CPD and school improvement opportunities it will afford us in the years to come"
DWCA Y1 teacher
"I recently recorded an RE lesson which gave me a great insight into the knowledge that children have about caring for our world. This was a really useful assessment tool at the end of the unit".
DWCA Y2 teacher
"I had a go at using IRIS for one of my teaching placement lesson observations. It meant I could set the camera up, leave it and forget about it. I then had the video to watch back myself and reflect upon my practice. I also sent it to my tutor so she could observe me. Not having her in the room observing meant I was more confident and could be myself. As a student I feel this was a much more effective way for my mentor to see me teach. She provided feedback over the comments section which saved her valuable time too!"
DWCA student teacher
"The class teacher I work with uses IRIS regularly. I am used to it coming into class now. I don't mind getting filmed because she just uses it to improve her own practice. It is not necessarily focussing on what I am doing. We have a good working relationship though so I am happy for her to also use it to support my own development".
DWCA Educational teaching assistant (ETA)
"So far, we've found IRIS Connect to be just as, if not more, impactful on teaching and learning than we had hoped. Teachers have become more reflective practitioners and are making great use of the platform to share practice with colleagues and initiate discussions around teaching techniques and strategies."
DWCA Assistant Headteacher
"Everything I have heard about IRIS has been positive. It is clear to see the impact it is having at Diamond Wood Community Academy. Teaching and learning has improved as a result of its implementation. Teachers seem happy to use it and are utilising it to support their development".
DWCA Governor
Michael Brennan, IRIS Connect - It's been a real pleasure and inspiration since we first met and started working with the team at Diamond Wood Primary School. At an annual training workshop in 2018 I arrived at the school to be greeted by a pirate and other book characters as staff had clearly thrown themselves at making the day and environment special and exciting for the pupils. The costumes were amazing but the enthusiasm top class. I was offered one of the class cakes during a lesson and realised that every cake had the book covers from their focus reads on it – stunning attention to detail. It's clear every day is special at Diamond Wood and the education varied, challenging and fun. The staff always respond to communications quickly and from the tone and language it always feels as though they are smiling. Great school to work with as education consultants and development and improvement in teaching and learning, always on their agenda. Our work together has meant both new and experienced staff are quickly able to see the evidence behind what works in school and build effective teaching through collaboration. Looking forward to the next stage with Diamond Wood, wonderfully making a difference.
We were also finalists at the 'TES teaching awards 2019 under the category of 'Innovative use of technology to influence outcomes award'.
IRIS connect themselves also regularly tweet on their twitter page to recognise our achievements. They previously asked our assistant head teacher to become involved in creating a blog for them to share the success of using IRIS in our school with others. This was published on their website and twitter feeds.