At Diamond Wood Community Academy, we pride ourselves on our commitment to making the world a better place for all. We are passionate about engaging all pupils, staff and families in environmental education and action. In order to support us on this journey, we are supported by Eco Schools. Eco Schools is a charity organisation which provides a simple, seven-step framework that guides, empowers and motivates pupils to drive change and improve environmental awareness in their school, local community and beyond.
We are extremely proud to have been awarded the Eco Schools Green Flag accreditation, which recognises, rewards and celebrates the environmental achievements of our school and young learners. During this academic year (2021-2022), we will be working towards renewing this accreditation. In order to do this, we have designed a bespoke curriculum which embeds the Eco Schools principals within all areas of school life. We have also set up an Eco Council to support us on our mission and ensure that the agenda is continuously of a high priority within all classrooms.
To find out more about Eco Schools please click here to visit their website.
The images below show our Eco Schools Long-Term plan for this academic year (2021-2022)
Click here to download the long-term plan as a document.
Our Eco Leader
Our Eco School Leader is Mrs Tombling. She is has a vast amount of experience and is extremely passionate about making the world a better place for all.
If you would like to speak to Mrs Tombling, please email office@diamondwoodacademy.co.uk and address the email to her specifically.
National Award Winner!
Did you know that Mrs Tombling is a TES National Teaching Award winner for all of her Eco Schools work within our school? She won the category of 'Environment Champion of the Year'!
Mrs Tombling on the Radio!
Click on the link below to listen to Mrs Tombling on the Radio. She was invited to talk about all of her achievements and the work she does at our school. We are extremely proud of her and everyone in school!
Subject Links
When focusing on our Eco Schools work within school, Mrs Tombling and the Eco Council work in close collaboration with our Geography, Science and Outdoor Learning leaders. This is because there are clear and strong links between these subject areas and our Eco Schools vision, values and aims.
We strive for our curriculum to ensure pupils know more, remember more and do more. We continue to ensure pupils are provided with high quality learning experiences which allow them to make links, joins and connections within all areas of learning.
To visit our Geography page click here.
To visit our Science page click here.
To visit our Outdoor Learning page click here.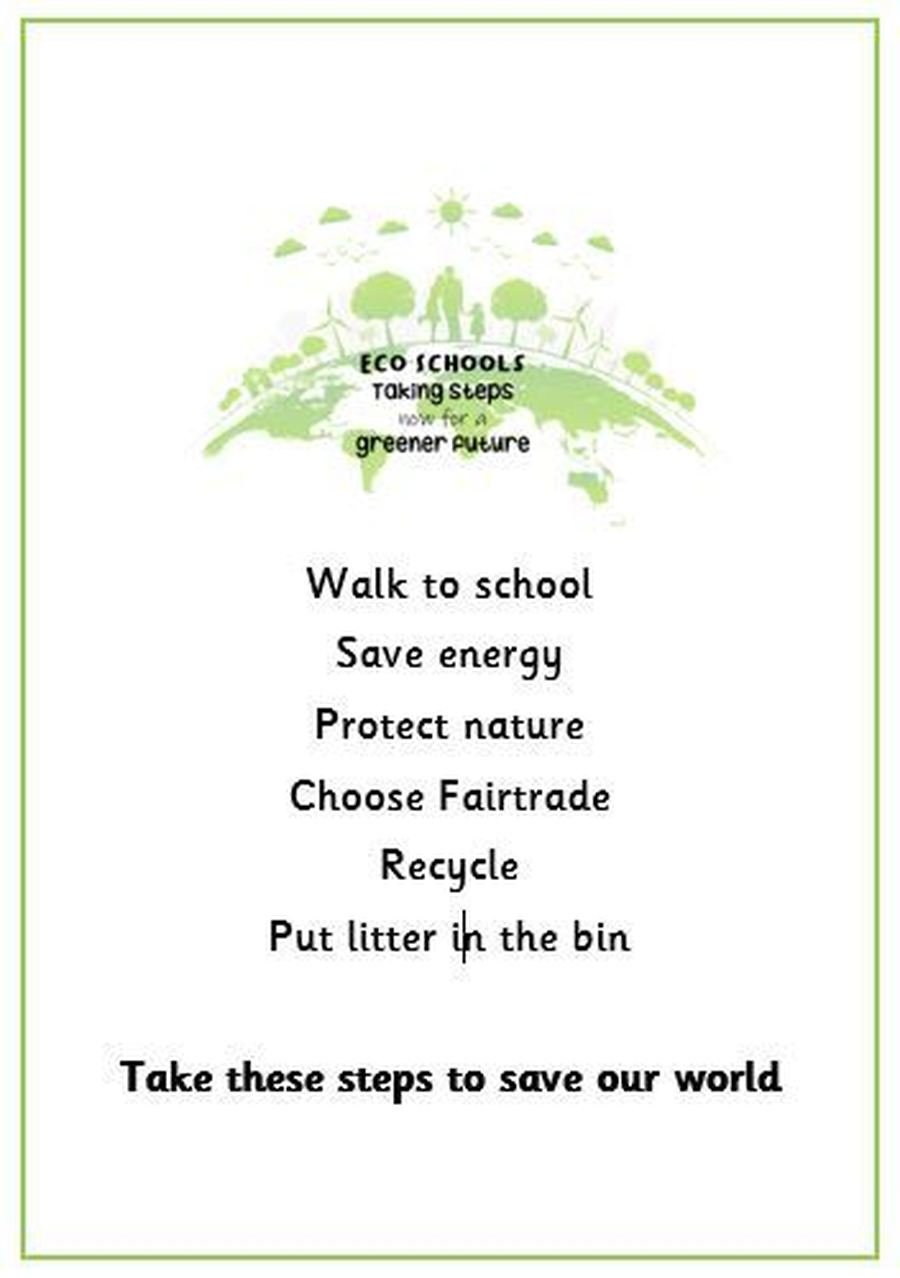 Fairtrade
We are pleased to announce that we have been awarded the Fairtrade Schools Fair Achiever award for the second time! Well done to our amazing Eco Council for promoting Fairtrade and to the whole school for embracing our Fairtrade journey. Click here read the feedback.
Get involved!
Young People's Trust for the Environment
Click here for home learning eco-activities.
***BREAKING NEWS*
We are an official

AMBASSADOR SCHOOL

for the

M

inistry of

E

co

E

ducation!
Click here to find out more about the Ministry of Eco Education.
We can't wait to continue working alongside them this year. Watch this space for our upcoming projects!
Take a look at what we have been doing so far this year...
Remember to also check our Twitter page dwca_tweets for regular updates!